Digital Marketing Health Assessment: How Competitors Are Spying On You
Digital marketing has made it easier to monitor the results of online campaigns. However, it has become just as easy for competitors to track and monitor your online marketing activity and stay ahead of the game. If you are not sure where you currently stand amongst your competition, it may be time to do a digital health assessment.
Check Your Search Engine Rankings
The first part of your digital health assessment is to take a look at your search engine rankings. Which page does your company show up on? Your rankings on Google and other search engines are important because this is how most consumers will find your website.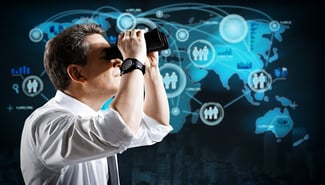 If you want to rank higher in search engines, you will need to improve your Search Engine Optimization (SEO). The two best ways to do this are to use appropriate SEO keywords that will increase your findability and regularly publish original content that utilizes these keywords and phrases.  Not sure which keywords to use? Start with trying to find out which ones your competitors are using.  With information as basic as a URL, you can find out the top keywords on a competitor's site as well as how much they're spending on SEO, SEM and more.
Monitor Your Social Engagement
When things are running smoothly on social media, it can be easy to forget to monitor your social engagement. There is more to social media management than just curating content and posting company updates. Social media is a powerful tool for connecting with your customers and building relationships.
Part of monitoring and managing your social engagement is making sure to respond to customer questions and inquiries in a timely manner. You will also want to take every opportunity to engage with your audience, whether that be asking customers for feedback on a new product or offering a simple "thank you" when a customer leaves a glowing review.
Take a Look at Your Digital Footprint
Do you know the size of your digital footprint? How does it compare to your competitors? Your digital footprint is essentially your web presence, and it is made up of all the small moving parts that make up your digital marketing strategy. By taking a look at your digital footprint, you can better gauge your digital health.
Remember, your competitors are not the only ones who are looking at your digital footprint. Any information that you put online or that others put online about you, such as a customer review, is open to the public and can impact the way that others view your brand. By consistently monitoring your company's digital footprint, you are able to improve customer service and find ways to improve brand reputation.
Though a lot of internet marketing tasks can be automated, it is not something that you should set and forget. If you want to be as successful as the top digital agencies, you need to regularly perform a digital health assessment in order to keep an eye on the competition while making sure that your own digital advertising campaigns remain effective.
Bring your digital marketing and SEO up a notch by downloading our 12 SEO Myths eBook! Learn what to look for in regards to ranking, keywords and overall SEO tactics. Click the image below to get your copy!